Massage Therapy in Fort Pierce
While a spa-like experience may come to mind when massage is mentioned, massage provides an array of incredible healing benefits. It's an ideal complement to chiropractic care, and is a feel-great option for anyone at any time.
"Everybody could use a massage!" says our in-house massage therapist Leann Elmore.
Leann specializes in massage with a therapeutic focus. Dr. O'Grady works with Leann to devise the most effective plan to achieve the best possible outcomes for patients.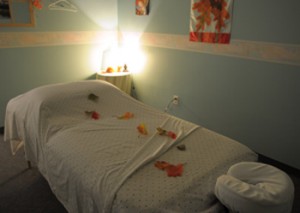 Massage can:
Decrease stress
Reduce soreness
Diminish tension
Heal injuries, including those from car accidents
You don't have to be a chiropractic patient to take advantage of our massage service; you can still make an appointment for just a massage. We even accept walk-ins.
Deep Tissue Massage
"I wouldn't start immediately with deep tissue work on a patient in acute pain. Massage is like peeling an onion – I work within each patient's tolerance level and progress as we're able." – Leann Elmore
Deep tissue massage is beneficial in breaking loose scar tissue and is a huge help in the healing process when patients are recovering from injury.
Myofascial Release
When patients carry a lot of stress and tension in their bodies, like after an injury, it can result in a lack of movement in the skin and fascia beneath. Myofascial release helps to stretch things back out, get movement going, and increase blood flow and motion again.
Trigger Point Therapy
Got knots and bumps? Trigger point therapy helps to release them, and works to eliminate pain and tightness. This is not a type of massage, but rather a modality Leann uses within a massage to help bring a greater range of motion.
People tend to get immense relief with the use of this technique and, as always, Leann works within the bounds of each person's tolerance and comfort level.
What to Expect
There's not a lot you need to do! Simply book your appointment, arrive comfortable, and relax! You also will need to complete a quick intake form for anyone to fill out, regardless of whether or not you've been a patient at Fort Pierce Chiropractic.
During your visit, Leann will:
Show you to the massage room
Discuss your needs and wants
Allow you time to disrobe and lie on the table
Begin the massage and help you get comfortable
Figure out which pressure you like
After your massage, we encourage you to drink plenty of fluids—preferably water—so that your body can flush the toxins stirred up during your massage.
Pricing
Our current massage therapy prices are as follows:
30 minute massage for $35
60 minute massage for $60
Contact Fort Pierce Chiropractic today to schedule an appointment!
---
Massage Therapy Fort Pierce | (772) 468-1000