Knee Pain in Fort Pierce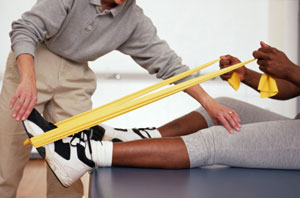 If persistent knee pain has sidelined you from participating in your favorite activities we want to help. At Fort Pierce Chiropractic, we offer a non-invasive, drug-free solution to decrease pain and inflammation and accelerate tissue repair.
Trigenics™ Myoneural Medicine
Considered a "neuro-kinetic, sensorimotor treatment," Trigenics is a form of therapy that can instantly provide pain relief and increase strength and mobility. The processes used in Trigenics are designed to retrain the way the brain communicates with the muscles of the knee. The positive results are instant!
Conditions That Can Benefit
• Bone on bone
• Bursitis
• Cartilage damage
• Crunching and popping sounds
• Failed knee surgery
• Knee pain
• Knee arthritis
• Tendonitis
Gentle Care That Gets to the Root of the Problem
Instead of prescribing medications, which can only mask pain and discomfort, the Trigenics therapy gets to the root of the issue by stimulating the body's natural healing ability. Another benefit of our approach is that it doesn't involve invasive surgery, which can be risky. The laser we use is able to penetrate into the knee without causing any discomfort. Once the laser energy strikes the target tissue, three things occur:
1) Irritated nerve endings are calmed so you can experience relief
2) Decreased inflammation
3) Accelerated tissue repair
Schedule Your Consultation Today!

If you're ready to say goodbye to chronic knee pain, contact our practice today and schedule a consultation! We're offering a comprehensive consultation for just $60 (normally $300). Complete the form provided including your name, email and telephone number. Then call our office (772) 468-1000 immediately to confirm your registration.
Before submitting your request, please be sure you are committed to attending your consultation with Dr. O'Grady to discuss your knee pain. These consultations are extremely limited so if you know that you can't make the time please leave the slot open for someone else. Thank you.
---
Knee Pain Care Fort Pierce | (772) 468-1000