Car Accidents & Whiplash in Fort Pierce
"I had a car accident 4 yrs ago, seeing Dr. O'Grady to treat the back problems I had after the accident was the best thing I ever did. Thank you Dr. O'Grady."   -Charles S.
Whiplash Injuries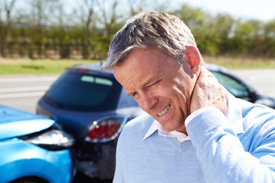 Even a minor fender bender can produce a whiplash injury.
It may take a day or two, or sometimes months for symptoms to appear. Now what?
Get to our practice for an examination!  The longer you wait the more unseen damage there is and the longer it seems to take to recover.
Specific chiropractic spinal adjustments, because they can help restore proper motion and position of individual spinal bones, can help promote proper healing.
Proper Diagnostic Testing makes a difference»
Proper diagnostic testing is critical to establishing a proper treatment program and documentation of car accident injuries.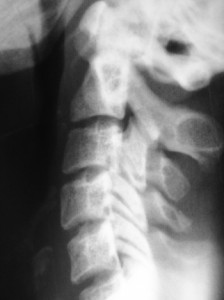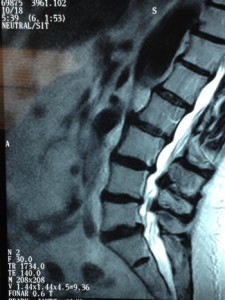 FAQS
Why do I have pain in my arms and hands?

Because the nerves to the arms and hands exit the spine through the injured area of the neck, numbness and tingling are common. Even lower back pain can result directly from the trauma, or as a reaction to the loss of proper spinal curves.

Why did my headaches start more than a week after my accident?

Whether you've been in an accident, stressed at work, or over-exerted yourself in the garden, your body is constantly adapting to the environment. When your capacity to adapt is exhausted, symptoms can appear. This can take days, weeks, months or years to occur.

Why do minor collisions cause so much trauma to the spine?

Without getting into the laws of physics, the simple explanation is that in a more forceful automobile accident, the car itself absorbs much of the energy. In the more common parking lot "fender benders", the energy is more directly transferred to the driver and passengers.
Have more questions? Give us a call or visit us so we can help you through your time of need.
---
What To Do After a Car Accident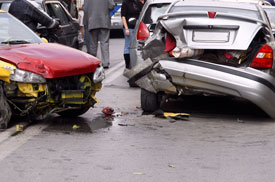 "Accidents happen and I know that, so I want you to be prepared if you're ever in a car accident.
I'm writing this as an important resource, one that I hope you never have to use. But, please read through and share with your loved ones as it's best to understand what to do just in case."
Read more»
1. Pull over and call 911. Try to pull your vehicle out of the line of traffic, turn your car off and your hazard lights on. Even if it appears that no one was injured and damage to vehicles appears minimal, call 911 (The federal government's website, 911.gov believes it's important to get the police report and it's critical when receiving insurance coverage in Florida).
2. Exchange auto insurance information with the other parties involved in the accident. Your insurance company and the other driver's insurance company need everyone's contact information to decide who pays for the damage. The sooner the insurance companies get this information the sooner the process can start. Also, get contact information such as a copy of the other party's driver's license (take a photo with your smartphone if possible).
3. Get a police report. Be sure to give an accurate and detailed report to the police when they arrive. Get a copy of the report and check it for accuracy when the report is released. Police reports are typically ready within 72 hours. You can file a police report later (it varies from state to state, but many states allow up to 72 hours). But, if both cars leave the scene, the information won't be as accurate and the other driver my give a different interpretation of what happened (especially if they are at fault).
4. Take photos and gather witnesses. Use your smartphone to take photos and video of the scene before the cars are moved, if possible. Also take photos of the damage of all vehicles involved. If eyewitnesses are available get their contact information for later use.
5. Tell the truth. Even if you're at fault, tell the truth. Stick to the facts, but don't offer your opinion. Take the time to process in your mind what just happened before you speak. If you aren't sure of specific details, don't offer them.
FAQs
What type of doctor should I see after the accident?

If you've been seriously hurt, go to the emergency room. If you feel that your injuries don't require immediate care or you've already gone to the emergency room, visit a physician that has experience treating and documenting your injuries.

Dr. Timothy O'Grady

and his staff have many years of experience and training in treating this type of injury and they're here to help you.

Who is responsible for my medical bills?

Florida law requires all drivers to carry Personal Injury Protection (PIP) insurance. This insurance will cover you for injuries that occur as result of a motor vehicle accident. The at-fault party may also be responsible for some of the medical bills with major medical health insurance helping out. Have more insurance questions? Dr. O'Grady and his staff are happy to help with any insurance questions you may have.

Should I consult with an attorney?

It is not required that you retain an attorney to receive treatment. Many people retain an attorney when they have difficulty with insurance questions, have lost wages, a permanent injury, outstanding medical bills, significant pain and suffering or economic lost. This choice is up to you.Dr. O'Grady can provide medical records, final reports and documentation to your attorney upon request. If you need assistance finding an attorney he'll make a recommendation for a local, experienced attorney to help you.
---
Email us to learn more about how we can help you:
---
Serving Fort Pierce and Port St. Lucie with the most
comprehensive chiropractic and massage therapy services.